Akseblob

Created by Frozina
 General Information
Full Name
Akseblob
List Number
#N/A
Version
N/A
Battling
Template:UNK
 Biodata
Type(s)
Normal/Water
Rarity
Common
Species
Template:UNK
 Battle Info
Catch Points
Template:UNK
HP
15
ATK
20
DEF
35
SPD
20
RES
35
 Evolutions
< N/A
Poblob >
Akseblob is a dual-type Normal/Water Dayan. It evolves into Poblob at level 17 and then into Yexpois at level 38.
Etymology
Akseblob's name come from two words (Akse/Blob).
Akse: Comes from the word Axolotl
Blob: Comes from the word Blobfish
Description
Akseblobs live in muddy water. They are resistant against extreme temperatures and electricity.
Trivia
Akseblobs can live outside the water.
Rare Variation
Akseblob has a rare variation based on colour. Akseblob's colour changes from blue to green.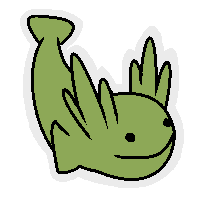 Gallery
| | | |
| --- | --- | --- |
| | | |
| Sprite | Sprite (variation) | Icon |