Chiț

Created by Emeraldgreeny
 General Information
Full Name
Chiț
List Number
#N/A
Version
N/A
Battling
No
 Biodata
Type(s)
Normal
Rarity
Uncommon
Species
Love mouse
 Battle Info
Catch Points
Template:UNK
HP
10
ATK
1
DEF
3
SPD
12
RES
5
 Evolutions
< N/A
Iubimouse >
Chiț is a dual
Normal
/
Psychic
type
Dayan
. It evolves into
Iubimouse
when you give it the best moment of its life, and finally evolves into
Iubărici
.
Appearance
Chiț is small and compact. Its fur is smooth and delicate. Its eyes glitter in the dark. The whiskers are curled, but flexible. Chiț emanates chemicals that will buff your brain, making you feel better in even the worst situations ever.
Description
If you find a Chiț, you can give it sugar cubes, and it will love you unconditionally. FOREVER. It is impossible to abandon a Chiț. It will risk its life to follow you everywhere you go. It is said that killing a Chiț will give you as many years of bad luck as days the certain Chiț lived.
Trivia
Chițes have been ancient antidotes to depression and mood swings. The artifacts that prove this are still well hidden.
Etymology
Chiț's name means "Eek"/"Squeak" in Romanian.
Design
This obviously resembles a small mouse.
Variations
Nature Variation
Chiț has no other nature variations that are currently known.
Gender Variation
Chiț has no other gender variations that are currently known.
Alterable Forms
Chiț has no other alterable forms that are currently known.
Rare Variation
Chiț has a rare variation based on number. Chiț's rare variation adds a third pair of whiskers.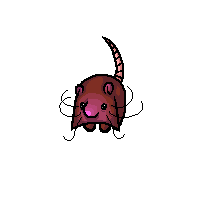 Gallery
None at the moment.
Ad blocker interference detected!
Wikia is a free-to-use site that makes money from advertising. We have a modified experience for viewers using ad blockers

Wikia is not accessible if you've made further modifications. Remove the custom ad blocker rule(s) and the page will load as expected.