DecaZ
200px
Created by Hypno1337
 General Information
Full Name
DecaZ
List Number
#N/A
Version
N/A
Battling
Yes
 Biodata
Type(s)
Fire/Metal
Rarity
Extremely rare
Species
Template:UNK
 Battle Info
Catch Points
VERY high
HP
100
ATK
85
DEF
70
SPD
5
RES
75
 Evolutions
< DiodeZ
N/A >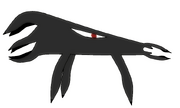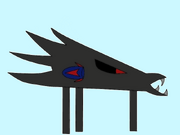 DecaZ is a dual Fire/Metal type Dayan. It evolves from DiodeZ and is the final evolution of Trioz.
Etymology
Edit
DecaZ' name comes from two words (deca/z)
Deca: 10
Z: Cool adittion
Description
Edit
A very tall beast, usually quite notacable, carnivorous yet un-aggressive, however it is quite protective of it's young. Usually found in a forest, they occassionaly hunt in pairs or rarely 3's, usually they don't, as with their power and size it isn't neccecary.
TBA
Rare Variation
Edit
TBA