Exoverdae is a dual type Psychic/Water Dayan.
Exoverdae

Created by  Hypno1337
General Information
Full Name
Exoverdae
List Number
#???
Version
???
Biodata
Type(s)
Water/Psychic
Rarity
Rare
Species
Fish/shark
Battle Info
HP
ATK
DEF
SPD
RES
 SUGGEST STATS. I am bad at it.
Evolutions
Evolutions
???
Pre-Evolutions
???
(Exoverdae's name comes from Exocoedae and verlagern
Exo and Dae from the technical name for the flying fish family, noting both its water typing and its ability to levetate
Ver from the german word verlagern which translates to relocate, noting its teleporting abilities and psychic typing
Description
Edit
A fast, feared dayan, it can use its ability to teleport very well and it isn't even bound to water as it can float above land and breath as normal.
By teleporting a small area around itself, it can transport water from the ocean to whereever it goes.
Contrary to popular belief, its floatation abilities are un-influenced by its psychic abilities
Rare Variation
Edit
Caused by a pigmentation error in development.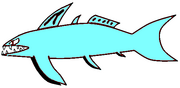 Other pic versions
Edit
Thanks :D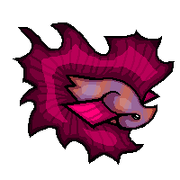 Ad blocker interference detected!
Wikia is a free-to-use site that makes money from advertising. We have a modified experience for viewers using ad blockers

Wikia is not accessible if you've made further modifications. Remove the custom ad blocker rule(s) and the page will load as expected.