Patturplop

By Fishy
 General Information
Full Name
Patturplop
List Number
#???
Version
 ???
Battling
Template:UNK
 Biodata
Type(s)
Water - Ghost
Rarity
Very Rare
Species
Depressing
 Battle Info
Catch Points
21
HP
55
ATK
55
DEF
40
SPD
40
RES
40
 Evolutions
< Patapat
Precilumn >
Patturplop is a dual-type
Water
/
Ghost
-type
Dayan
. It evolves from
Patapat
and evolves into
Precilumn
.
Etymology
Edit
Patturplop's name comes from the two words Pattur and Plop.
Pattur - A corruption of patter, referencing to rain pattering on a surface.
Plop - Referencing to rain plopping onto a surface.
Description
Edit
A Patapat evolves into a Patturplop on the most miserable day of it's life. They take needing time to be alone to a whole new level - when someone that has not earned a Patturplop's trust approaches it, the Patturplop will puff out the cloud-like fur around it's neck, pushing them away. It's touch will cause any dayan to become temporarily sad or pessimistic at the least.
Depression is sometimes called Patturplop Syndrome.
Rare Variation
Edit
Patturplop has a rare variation based on saturation/brightness. It is a more greyish colour, and the indigo parts of it's body are covered in what looks like dirt patches, but in reality, are only patches like those on a dog's fur.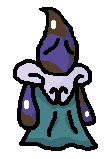 Ad blocker interference detected!
Wikia is a free-to-use site that makes money from advertising. We have a modified experience for viewers using ad blockers

Wikia is not accessible if you've made further modifications. Remove the custom ad blocker rule(s) and the page will load as expected.