Preslec is a dual type Sound/Electric Dayan. Unknown evolutions
Preslec
null

 General Information
Full Name
Preslec
List Number
 ???
Version
Gen 1
Battling
Yes
 Biodata
Type(s)
Electric/Sound
Rarity
Rare
Species
Unknown
 Battle Info
Catch Points
 ???
HP
Med/High
ATK
Very high
DEF
Med
SPD
Low
RES
Med
 Evolutions
< Template:UNK
Template:UNK >
Preslec's name comes from pressure and electric (phrase/phrase if available++)
Pres - Pressure - Sound typing
Lec - Electric - Electric typing
Description
Edit
A creature that allways faces upwards, uses sonar to see around itself, using the bars in its mouth as a electric coil to charge up electricity and fire it in high concentrates, also using its mouth like a cone to amplify sounds.
It can gather sound energy condense it to a shockwave, and transport it at un-measured speeds to opponents, and release it
Rare Variation
Edit
Preslec has a rare variation that fires blue electricity, and it is much more powerful than regular varients.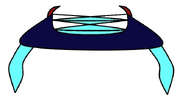 Ad blocker interference detected!
Wikia is a free-to-use site that makes money from advertising. We have a modified experience for viewers using ad blockers

Wikia is not accessible if you've made further modifications. Remove the custom ad blocker rule(s) and the page will load as expected.